The Worst Witch (Worst Witch Live) is a musical play adaption of the books and TV series by Emma Reeves, who also wrote the BBC TV Series. The play ran for the month of December, 2018 at Northampton's Royal and Derngate theater,[1][2] before touring the UK in in the first half of. 2019. The production will then move to the West End's Vaudeville Theatre from July 24 through September 8.[3]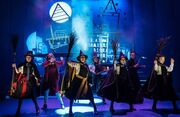 Story
The story, revolves around Mildred, an ordinary girl, who accidentally finds herself at Miss Cackle's Witches' Academy. Unable to leave, she has to try as hard as possible to fit in and become what she never imagined she could be - a witch. Eventually she plays an important part when the academy is threatened by the return of an old enemy.
Written as a 'play within a play', some humour is derived from home made efforts to create on stage magic, for example the use of a scooter when one witch can't succeed in actually flying her broomstick, however the are also moments of magic such as when Mildred and Maud find themselves high above the stage battling to stay on their brooms. Polly Lister, as both school headmistress Miss Cackle and her evil twin Agatha, Plays two parts at the same time, in the same scene. Music is provide by Miss Bat's musician band, the Witches' Cats appear as puppets.
Cast and Crew
Story by Emma Reeves
Show Director Theresa Heskins
Set Design by Simon Daw
Composing by Luke Potter
Lighting Design by Aideen Malone
Sound Design by Leigh Davies
Puppets and effects by Paschale Straiton
Gallery
Notes and references
Community content is available under
CC-BY-SA
unless otherwise noted.