This article is written from a real world point of view and so is not considered part of The Worst Witch universe.
The Worst Witch is a series of children's novels written and illustrated by Jill Murphy and published by Puffin Books (The first two books were orginally published by Allison & Busby). They have become some of the most outstandingly successful titles on the Young Puffin paperback list and have sold more than 5 million copies.[1]
The eight volumes cover Mildred´s first four years at Cackle´s Academy – books 1 and 2 covering the first year, books 3 and 4 covering the second one, books 5 and 6 covering the third year, and Books 7 and 8 covering Mildred's fourth year. There are also two spin-off activity books, The Worst Witch's Spelling Book and Fun With The Worst Witch.
The books have been released as audio books on CD and cassette, with books 1-5 read by Miriam Margolyes, and books 6 and 7 read by Gemma Arterton. The first five books have been re-released read by Gemma Arterton, and Barbara Flynn has also recorded Worst Witch audio books.
In 1986, the first book in the series was made into a TV Movie. A TV series based on the books aired from 1998 to 2001, and has inspired two spin-offs, Weirdsister College (2001) and The New Worst Witch (2005). A new TV adaption by the BBC aired in 2017.
Overview
Mildred Hubble is the worst student at Miss Cackle's Academy for Witches. She is well-meaning but does things without thinking. The benevolent headmistress, Miss Cackle, is generally understanding, whereas Mildred's form teacher Miss Hardbroom thinks she just isn't trying hard enough.
Other characters in the books include Ethel Hallow and Mildred's friends, Maud Moonshine and Enid Nightshade. Maud is a rotund girl and more sensible than Mildred, although usually finds herself caught up in her friend's problems. Enid (introduced in the second book) is a practical joker who is more likely than Mildred to get them all into trouble. The three of them have a strong rivalry with Ethel Hallow, their high-born, snobbish and vindictive classmate.
Books in the series

There will also be a spin off series of books for younger readers featuring Mildred's cat, Tabby. [2]
Inspiration and Writing
Murphy began writing The Worst Witch at the age of 15, and based the Worst Witch books on her own experiences of school at Ursuline Convent in Wimbledon, England,[3] with Singing becoming Chanting, Chemistry becoming Potions and so on.
Mildred wasn't a witch at all in the beginning: "She had pointy ears because she was in fact a fairy, and was originally in the wrong school – she should have gone to a fairy school. At the end of this story she starts to grow wings and has to wear a very tight vest to stop them showing. She flies out of the window to find the fairy school and has a wonderful time there."[4]
"When I was eighteen, I knew I wanted to write a book about a hopeless case at school (based on me being a hopeless case in my first term at 'big' school!) but there were hundreds of school stories, so it needed to be different. My two friends and I used to come home in our dark uniforms, looking very scruffy at the end of the day - my dark plaits sprouting tufts, with lost hair ribbons. My Mum used to say "Look at you all. You look like the three witches!" and it gave me the idea for a witch's school - so that it was exactly like my school, but with a subtle touch of magic. All the characters are based on my school friends (and enemies) and teachers." [5]
"The Headmistress, Mother Phillip, was 6" 2, and very droopy, sort of, and quite tall and thin, and she was rather kind. She had a sidekick, who was very tiny, and very ferocious, and we were all terrified of her." Jill switched the personalities and body shapes around to create Miss Cackle and Miss Hardbroom.[6]
"The characters in "The Worst Witch" are all based on my school days. Mildred is based on myself when I had plaits so long that I could sit on them! Maud is based on my little best friend, Elizabeth, and all the teachers (both nice and nasty) are based on my schoolteachers. It was a very strict school and I began to think up the story of Mildred when I was still at the school, aged fifteen. I used to draw little pictures of Mildred, with her pointy witch's hat, all over my school exercise book. I made them into witches because I thought it would add a touch of magic to the story. "The Worst Witch" was published forty years ago when I was twenty-four, but I had been trying to get it published since I was eighteen. I still have the first rejection letter, dated 1969 stuck on my notice-board to cheer me up when I'm feeling down!"[7]
"If I'm in the mood, a story like 'The Worst Witch' just flows out of my pen and is finished in two weeks. I do very little redrafting, although I always write it out clearly a second time so that my secretary can decipher it in order to type it out. The pictures take six months to a year, depending if they are black and white or coloured pencil. I don't write every day. Sometimes inspiration doesn't strike for weeks!"-Jill Murphy in an interview. [8]
Setting
The stories mainly take place within the walls of Miss Cackle's Academy, a girls' boarding school in a stone castle atop a mountain, surrounded by forest. Each book covers one term at the Academy. There are two terms a year, the Winter term (September-January) and the Summer Term (March-July) with a month's holiday between terms. As of the end of The Worst Witch to the Rescue, Mildred, Maud, Enid and Ethel are in the second (Summer) term of their third year at the Academy.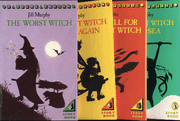 Illustrations
The books are illustrated by the author, with many beautiful pen-and-ink drawings. Every main character in the books has a very distinctive appearance, shown by Jill Murphy's excellent descriptions and brilliant drawings. The appearance suits the character. Mildred has very long hair in two messy plaits. Maud has her hair in two bunches and wears round glasses. Enid is very tall and large with one plait. Ethel has a pointy nose and hair pulled back in a ponytail. Miss Hardbroom is tall and skinny, usually wears dresses and has her hair in a bun, and Miss Cackle is quite plump with grey hair and glasses.
Translations
The Worst Witch books have been translated into a number of languages, including French, German, Spanish, Dutch and Czech. The TV series has also been dubbed into a number of languages.
The series is known in France as Amandine Malabul (which is Mildred Hubble's name in French). All of the books were prefixed with her name, and a subtitle. The seven books are: Amandine Malabul - Sorcière maladroit (Mildred Hubble: The Clumsy Witch), Amandine Malabul - La sorcière a des ennuis (Mildred Hubble: The Witch in Trouble), Amandine Malabul - La sorcière ensorcelée (Mildred Hubble: The Bewitched Witch), Amandine Malabul: La sorcière a peur de l'eau (Mildred Hubble: The Witch Afraid of Water), Amandine Malabul: La sorcière et la fourmi (Mildred Hubble: The Witch and the Ant), Amandine Malabul: La sorcière à la rescousse (Mildred Hubble: The Witch to the Rescue) and Amandine Malabul, la sorcière et sa bonne étoile (Mildred Hubble: The Witch and her Lucky Star).
The German translation is known as Eine lausige Hexe (The Lousy Witch). The books are called "Eine lausige Hexe" (The Lousy Witch), "Eine lausige Hexe zaubert weiter" (The Lousy Witch Conjures More), "Eine lausige Hexe hat viel Pech" (The Lousy Witch has a lot of Bad Luck), "Eine lausige Hexe fliegt ans Meer" (The Lousy Witch Flies to the Sea), "Eine lausige Hexe löst den Bann" (The Lousy Witch Breaks the Spell) and "Eine lausige Hexe eilt zu Hilfe" (The Lousy Witch to the Rescue). Weirdsister College became known as Eine Lausige Hexe in Cambridge ("The Worst Witch In Cambridge").
The Worst Witch books are also availible in Dutch: "De Hopeloze Heks" (The Hopeless Witch), "De hopeless Heks slaat opnieuw toe" (The Hopeless Witch Strikes Again), "De Hopeloze Heks zit in de Knoei" (The Hopeless Witch is in Trouble), "De Hopeloze Heks Gaat naar zee" (The Hopeless Witch Goes to Sea), "The Hopeloze Heks Redt de School" (The Hopeless Witch Saves the School), and "De Hopeloze Heks weet het beter" (The Hopeless Witch Knows Best).
The Italian title is 'Scuola di streghe' (School of Witches), and in Czech the series is called 'Čarodějnice školou povinné' (The witch school child).
References
External Links