This article is written from a real world point of view and so is not considered part of The Worst Witch universe.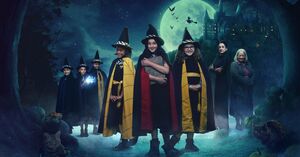 The Worst Witch is a British television series about a group of young witches at a Magic Academy and is based on The Worst Witch books by Jill Murphy. The series follows Mildred Hubble, a normal girl from a world outside of magic, as she finds herself at Miss Cackle's Academy for Witches, and strives not to be The Worst Witch!
Cast Members include Clare Higgins as headteacher Miss Cackle, Raquel Cassidy as the deputy-headteacher and fearsome potions teacher, Miss Hardbroom, Bella Ramsey, later Lydia Page as Mildred Hubble, Meibh Campbell, later Megan Hughes and Tamara Smart as her friends Maud Spellbody and Enid Nightshade and Jenny Richardson as Mildred's arch enemy Ethel Hallow.
It's the third adaptation of The Worst Witch series after the 1986 television film and the 1998 television series, which had spin-offs in 2001 and 2005.
The series is a co-production between CBBC and ZDF. The series started airing in January 2017,[1] and will became available to stream internationally on Netflix in 2017. The first series was released on DVD on May 29, 2017.
Screenwriter Emma Reeves has also adapted 'The Worst Witch' for The Stage.
The CBBC website has online games that tie into the show, including The Worst Witch: Magic Adventure and Magical Mystery.
Website: http://www.bbc.co.uk/cbbc/shows/the-worst-witch
Overview
A re-imagining of the popular Jill Murphy books, the series centers on Mildred Hubble (Bella Ramsey/Lydia Page), a girl from a non-magical world who finds herself landing head first – quite literally - at Miss Cackle's Academy for Witches, after Maud Spellbody crash lands her broomstick on Mildred's balcony. Although she tries her best, her lack of magical knowledge makes her constantly do the things wrong and the series follows her adventures as she strives not to be The Worst Witch. The series follows the friendship of Mildred, Maud Spellbody (Meibh Campbell/Megan Hughes) and Enid Nightshade (Tamara Smart) as they navigate the trials and tribulations of a new school, the intrigue, the drama - and the rivalries - which come in the form of Mildred's arch enemy, Ethel Hallow (Jenny Richardson).
Production
In an interview in October 2014, Jill Murphy stated that a new TV series was on the way: "We're just in the process of working on it with the BBC. They have much better special effects for the animals, so it should be wonderful. I'm really, really looking forward to it."[2]
The series was developed in collaboration with author Jill Murphy, who invited the development team to her home where they spent three days developing the series in collaboration with Jill. They developed the relationship between magic and the real world, and determined the modern-day setting, as well answering questions such as why was Mildred at Miss Cackle's Academy despite her seeming lack of aptitude for witchcraft – and what did her family think about it? They discussed Mildred's background and home life – elements which aren't addressed in the books, which take place almost exclusively at the school.[3]
In May 2016, casting was announced with filming set to take place on location in Cheshire throughout the summer, with additional filming in Germany, and will be shown on CBBC early 2017.[4]
On October 31, 2016 (Halloween), a sneak peek of the series was released, along with cast photos and an air date of Janurary 2017.[5]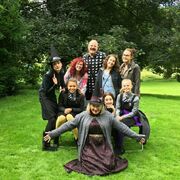 The series is a co-production between the BBC, Netflix and German broadcaster ZDF. Commissioned by CBBC Controller, Cheryl Taylor, The Worst Witch is made by CBBC Productions, the in-house creative team based in Salford, and is co-produced with ZDF and distributed by ZDFE. The CBBC Productions executive producer is Marcus Wilson, Lucy Martin is producing and Emma Reeves is lead writer on the adaptation. This is CBBC Productions' second major partnership with the German broadcaster and distributor, and follows on from the success of the Wolfblood franchise.[6] The collaboration between CBBC, Netflix and ZDF has allowed for a budget far beyond that usually spent on children's television programmes.
Some exterior scenes were filmed in Germany - the witch academy's exteriors will look like the famous Burg Hohenzollern.[7] Other filming locations include Peckforton Castle and Alnwick Castle in the UK. Alnwick Castle was previously used as Hogwarts in the Harry Potter films. The second and third series were also filmed at Adlington Hall, Adlington, Cheshire, using their grand hall, minstrel's gallery and their countryside and woods backdrop.[8]
For Red Nose Day 2019, The Worst Witch and Blue Peter produced a comedy sketch where Miss Drill tries to make Miss Hardbroom smile; this was released online in March 2019.
Cast
Episodes
Season 1:
Season 2:
Season 3:
Season 4:
DVD Release
The first series was released on DVD in The UK on May 29, 2017, as a 3 disc set. It has also been released as three separate volumes: Selection Day and Other Stories, The Great Wizard's Visit and Other Stories, and The Mists of Time and Other Stories.
The second series was released on DVD on 30th April 2018.
Gallery
See Here: Gallery: The Worst Witch (2017 TV Series)
Trivia
In an interview with Raquel Cassidy, she mentioned a "massive invitation to play" with her character (Miss Hardbroom), as the books don't have a lot of characterisation.
Emma Reeves, who wrote the series, avoided watching the previous version so as to avoid accidental plagiarism.
The production design team invented the fictional language Witchenese, which can be seen in props and around the set in many episodes. The language is a combination of many ancient languages, including moon glyphs, Celtic symbols and Nordic markings.
The snails in Mr Rowan-Webb's classroom were grown from snailings. They were affectionately named  Turbo, Storm, GTI, Slimy, Leafanator and Antenny.
Over 820 wigs were joined together to make Mildred's creeping hair for episode eight, The First Witch. This made nearly a kilometre of hair.
The school pond that Mildred and Maud crash into in episode one was heated to 23 degrees like a warm bath so the girls didn't get too cold during filming.
There are over 900 bottles in the potions lab –all different shapes, sizes and fillings. They are labelled with potions such as tears of a fairy, goblin intestine and smell and juice of violet.
The cauldrons in the potions lab are made from goldfish bowls so that viewers can see the colour of the potion and the bubbling during the brewing process.
It took over 200 bags of plaster and 400 litres of paint to create the stone walls of the classrooms, corridors and bedrooms of the castle set.
There are over 75 ornamental owls and 120 ornamental cats spread around Miss Cackle's office.
All the costumes were designed and made specifically for the show- nothing was bought from stores. This is because it was felt that witches' clothes shouldn't look like they were bought in a department store or the like, but should be more 'magical'. This included hand knitted jumpers for Miss Cackle as well as 100 witches hats! Each cape takes six metres of fabric to create the full circle design and if you look closely at the lining they have a cobweb design. The inspiration for the piping on the school shirts came from a German castle ceiling design.
Miss Hardbroom's dress was the most expensive costume, according to Raquel Cassidy, costing 'four to five times more than any of the others' due to the pricey fabric.[9]
Filming of series one took four months and in that time Milo, the kitten Mildred finds in the kitchen in episode one, grew up enough to be used as an adult cat later in the show. It wasn't always easy to get the cats to do what was needed though during filming. As Executive Producer Marcus Wilson says, "it was literally like trying to herd cats!"
Raquel Cassidy (Miss Hardbroom) and Clare Higgins (Miss Cackle) are actually the same size, but for their roles, Raquel wears tight dresses and high heels, while Clare wears flats and a fat suit.[10]
Notes and references
Community content is available under
CC-BY-SA
unless otherwise noted.