This article is written from a real world point of view and so is not considered part of The Worst Witch universe.
The Worst Witch

DVD cover of The Worst Witch (1986)

Starring

Music

Denis King
Songs:
Charles Strouse (music)
Don Black (lyrics)

Country

United Kingdom

Language

English

Location

St. Michael's College, Tenbury Wells

Runtime

70 mins

Network

Central Independent Television (ITV) and HBO

First Aired

1986
The Worst Witch is a 1986 television film based on the The Worst Witch by Jill Murphy. It was produced by Central Independent Television (now ITV Central) and HBO.
Overview
The Worst Witch was released in 1986 on Central Independent Television and HBO. It is based on the children's book by Jill Murphy. The film follows the plot of the 1974 book, portraying the incidents of when Mildred turns herself invisible and transforms Ethel into a pig, Miss Cackle's notorious twin sister Agatha plotting to take over the Academy, and the Grand Wizard viewing the Halloween Broomstick formation (sabotaged by Ethel's faulty broom which she lent to Mildred).
Production
The film was shot at St. Michael's College in Tenbury Wells. Its opening and closing song "Growing Up Isn't Easy" was sung by Bonnie Langford. It was composed by Charles Strouse with lyrics by Don Black. They also wrote "Anything Can Happen on Halloween". Denis King composed its score and wrote the song "My Little School". The movie was Directed by Robert Young, and the Producer was Colin Shindle.
The Worst Witch Halloween special aired on HBO in the United States every October until the late 1990s. it aired on The Disney Channel every year in October until the late 1990s.
Cast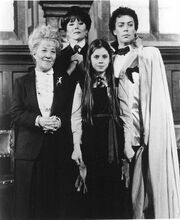 VHS and DVD releases
Prism Entertainment released the Worst Witch television movie on VHS October 19, 1994. It was also released by Reel Corporation in 2000. Bfs Entertainment re-released the film on video on December 28, 1999 and on DVD August 24, 2004.
The New Worst Witch DVD includes 'The Worst Witch' movie as a bonus disc.
Quotes
'
'Ethel Hallow: You sure you know how to play Terror Tag?

Mildred Hubble: Everyone knows how to play Terror Tag.
Ethel Hallow: You're not everyone.
Grand Wizard: Now, Mildred, have you made any plans for this unexpected holiday?
Mildred Hubble: No, Grand Wizard. I suppose I'd better practice my flying.
Grand Wizard: Would you like to practice with me?
Mildred Hubble: With you?
Grand Wizard: Oh, absolutely.
Mildred Hubble: Maud?
Maud Warlock: Go to sleep, Mildred.
Mildred Hubble: I can't.
Maud Warlock: Why not?
Mildred Hubble: I'm afraid of the dark.
Grand Wizard: [playing his tambourine] Has anybody seen my tambourine?
Miss Hardbroom: MILDRED HUBBLE!
Miss Hardbroom: No textbooks Maud! Either you know it or you don't. You can't fake a potion.
Agatha: Donna's arrived. She'll be a hundred and thirty six next month and she still acts like a teenager.
Mildred Hubble: Miss Hardbroom hates me.
Maud Warlock: Miss Hardbroom hates everyone.
Mildred Hubble: Imagine kissing that.
Maud Warlock: Imagine kissing HB.
Miss Hardbroom: [appearing from nowhere] Is that so?
[the girls shriek]
Miss Hardbroom: I would think, after your disastrous performances today, you should be hardly be spreading disgusting gossip about matters which do not concern you.
Mildred Hubble: Yes Miss Hardbroom.
Miss Hardbroom: And you had both pay much more attention to your studies, if you ever hope to graduate from this institution. The finest witching academy in the world.
Mildred Hubble, Maud Warlock: Yes Miss Hardbroom!
Miss Hardbroom: Now go back to bed.
[they dive under the covers]
Miss Hardbroom: Pleasant nightmares.
[Mildred and Maud have accidentally made themselves invisible]
Miss Hardbroom: Have you any idea what you did wrong Mildred?
Maud Warlock: It was my fault Miss Hardbroom.
Mildred Hubble: No, it was my fault Miss Hardbroom.
Miss Hardbroom: I don't care whose fault it was. Sit still until you reappear!
Miss Hardbroom: I've been quite hard on you Mildred. But I wouldn't have troubled if I hadn't have always thought you had potential.
Agatha: Shut up Delilah!
Delilah: Shut up Delilah.
Grand Wizard: You see, you're not the worst witch anymore.
Miss Cackle: So Mildred, what can I do for you?
Mildred Hubble: Miss Hardbroom sent me.
Miss Cackle: Oh dear. What happened this time?
Grand Wizard: Once in a purple moon, there is a special young witch who shines above the rest. Often she goes unnoticed, because she is always out of step. I have seen this girl trying to fly. Oh yes, I have. I've seen her at play and how her friends treated her. A true witch isn't always one who comes out on top of the tests. A true witch has witchcraft in her at all times, and this is what you have, Mildred Hubble. And so, Ms. Cackle, I ask you to make the rest of the day a half-holiday.
Gallery
Trivia
-The Movie adds broomstick trainer Madame Spellbinder, whereas in the book, Miss Hardbroom teaches broom flying.
-The school colours are changed from black and grey to black and orange to reflect the Halloween theme.
-Jill Murphy was disappointed with the film: "It was one of those things that starts up a great hope and bits go wrong. The film was terribly disappointing because it had an appalling script and they made various mess-ups, like with the costumes. When the girls saw the costumes they practically cried because the hats looked ridiculous. Diana Rigg and Tim Curry did their absolute best with weak special effects but they didn't have very good material."[1] Murphy was more impressed with with the 1998 TV Series: "I do think that it was basically a good series and people still remember it very fondly"[2]    
External Links
http://www.angelfire.com/tx3/80schild/worstwitch.html -Script of The Worst Witch
References