Mr Frank Blossom is the caretaker at Cackle's Academy, who enjoys gardening and inventing all kind of contraptions.
Story
1998 TV Series
Mr Blossom is a great inventor of all kind of contraptions - broomstick flight simulators, alarm systems and Patent Painless Cheeseprotectors included. Unfortunately, most of his inventions won´t work - and even if they happen to do so, the staff won´t appreciate them - and for the pupils they are merely a source of great mirth. Still, Frank never gives up working out elaborate machinery to make the life at the castle less medieval.
Mostly he is engaged, though, in trying to prevent the castle from crumbling to ruins. Rusty drains, fungus growing under the beds, creaking steps and shaky pillars offer a wide range for do-it-yourself work - and in between there´s piglets to catch, kittens to distribute or monkeys to chase.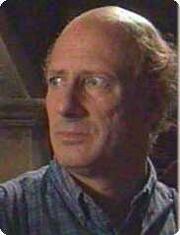 When not taking care of the school's maintenance, he is usually found down in the kitchens eating Mrs Tapioca's Italian cooking. He entered into the Gardening Competition in the episode Green Fingers and Thumbs with a prize marrow he grew in his greenhouse, until it was destroyed by his competitor, Terry Root. Mildred and her friends then made a plant-growing potion to enlarge the size of a smaller marrow. This worked, until it was sabbotaged by Ethel and Drusilla.
Frank has got a brother, Ted, who takes over the caretaker´s job in season 3 when Frank moves to Horticulture college, and also a nephew, Charlie, who pays repeated visits to the Academy.
Trivia
Frank Blossom's name in other languages:
 
French TV: Frank Massue
German: Frank Blütenstaub - Frank Pollen
Dutch: Frank Bloesem

Appearances