Miss Lynne Lamplighter

'

Magical Status

Non-Magical

Gender

Female

Hair Colour

Brown

Occupation

Artist

Actress

Mary Woodvine (1998 TV Series)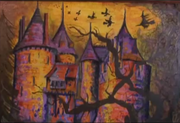 Miss Lynne Lamplighter is an artist from the village near Cackle's Academy, who Miss Cackle invites to the Academy's Art Week in in the episode Art Wars. Miss Lamplighter was only there temporarily for Art Week.
Story
1998 TV Series
Miss Lamplighter didn't go to art college, she was self-taught. She is a highly successful artist whose paintings sell for thousands.
When Miss Cackle announces that Miss Lamplighter will be coming to Cackle's for art week, Miss Hardbroom refuses to take part. She doesn't think having the artist show up is a good idea, and she doesn't like Lamplighter's "psychedelic" pants.
Miss Hardbroom tries to draw something (in her classroom, away from everyone) but it doesn't go very well, So she magics a picture on the page. Lamplighter shows up just then and compliments her on the detail. "It's like a photocopy!" Then she says it lacks heart, pats Miss Hardbroom on the shoulder and leaves again. Miss Hardbroom magically erases the page. Later, Miss Hardbroom is talking to Miss Crotchet about art and color and light and so on, suggesting she is learning to appreaciate art.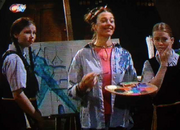 Miss Lamplighter also encourages Mildred with her drawing, telling her to go off by herself to draw something in private. Ethel turns Mildred into a statue, and also tried to sabotage Mildred's drawings by making some of her sketches blow away, but Mildred is turned back and Miss Lamplighter awards the prize to Mildred for her talent with drawing. Mildred is given free extra art lessons with Miss Lamplighter.
Miss Lamplighter is similar to Miss Mould from The Worst Witch to the Rescue.
Appearances