Harriet Goodcharm

'

Magical Status

Witch

Gender

Female

Hair Colour

Brown

Eye Colour

Occupation

Student Witch

Actress

Charlotte Powell (1998 TV series)
Harriet Goodcharm is a witch and a student at Cackle's Academy, in the same year as Mildred.
Story
Books
She is mentioned at the end of the first book, when Maud says that she was the one whom Ethel had told about her plot to sabotage Mildred's role in the broomstick display, and Harriet had told everyone else in Form One.
1998 TV Series
In the TV series she is called Harriet Goodcharm.
In Fair Is Foul & Fouls Are Fair, Bryony, Gloria, Harriet and Tansy are the cheerleaders led by Miss Bat.
Harriet Goodcharm is mentioned to have left during the second year, taking Fenella Feverfew's Place from the book, though Dawn Raven is the student missing in the second season.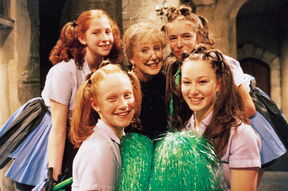 Appearances