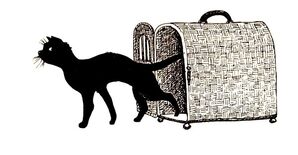 Ebony
is
Fenella Feverfew's
cat. Ebony belongs to
Harriet Goodcharm
in the TV series. In
The Worst Witch All at Sea
,
Miss Cackle
suggests to Mildred that she replaces
Tabby
. A third-year witch, Fenella Feverfew, transferred to
Miss Pentangle's Academy
several mountaintops away and left behind her sleek black cat, Ebony, since they have
owls
at Miss Pentangle's instead of
cats
. Miss Cackle suggested that Mildred take Ebony in place of Tabby, as Ebony was too refined to simply stay in the kitchens, the staff ignoring Mildred's concerns that Tabby wouldn't be a good fit either due to him being frightened of mice.
Ebony is almost as good as Ethel's Nightstar, which prompts Mildred to acknowledge a pang of disloyalty during broomstick flying sessions as Ebony is indeed a better witches' cat than Tabby. However, Ebony often goes hunting at night, which Mildred contrasts with Tabby always staying with her for a warming cuddle. Eventually, Mildred sneaks Ebony back to the kitchens so that she can take Tabby on holiday with her, the novel ending with Mildred being allowed to take Tabby back. Ebony's final fate is never specified, but was presumably returned to the kitchens.
Appearances